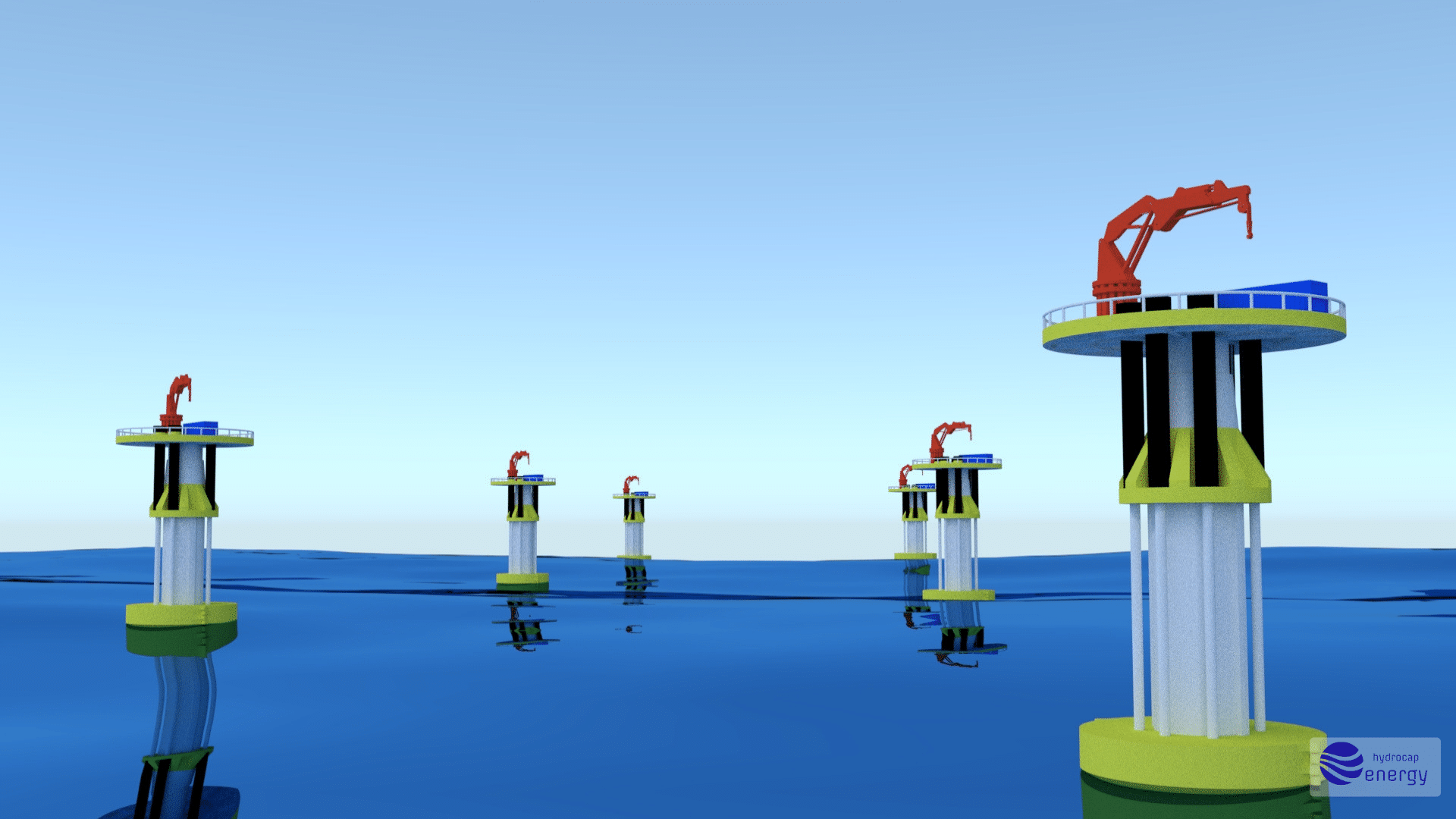 Hydrocap Energy is a French company which develops an innovant and efficient  wave energy converter : SEACAP. Hydrocap Energy was founded by  O&G drilling experts and is currently managed by A. Larivain a former offshore dilling executive with a major international drilling contractor.
The company  positions itself as a conceptor, integrator and technology provider to utility operators or big industrial facilities. Hydrocap is a partner of the project SeaTitan
Seacap is a marine renewable energy device that captures the kinetic energy from the wave motion. Several CFD, virtual simulation and scaled tank tests have been performed with various types of sea-states models.
Production : the mechanical energy of wave force and motion can be converted to electricity, thanks to Seacap linear generators. Control command containers are housed on the utlity deck.
All equipment is dry and protected from marine environment.
Conversion : electricity may be transferred to a shore substation like other systems, however, it may preferably be used on-deck to produce clean hydrogen thru a new generation of hydrolysers.
Seacap has been thru extensive virtual simulation and tank testing. It is  presently studying, within the H2020 EC funded program SeaTitan, a 2nd generation of linear generators to be used on its future  WEC's.
It is now ready to go a step further with an ocean size demonstrator. Various sites have been selected to carry series of experimental real condition on-site production tests. 
To this effect Hydrocap is seeking the participation of marine renewable energies interested investors
The economic viability of a wave energy converter (WEC) depends largely on its power take-off system (PTO). Active control of the PTO is necessary in order to maximize power capture across the wide range of sea-states encountered offshore and, can also improve survivability. 
As developer of an innovative WEC design made of several proven modular components and, ultimately integrator of a complete marine energy WEC, Hydrocap has made its primary goal to design SEACAP around the most reliable and efficient modules, contributing to  bring to market a new step change generation of PTO. The economics of the system are directly proportional to the efficiency of the conversion process and the type of generators used (see below).